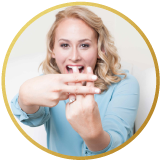 Create a fascinating speech & attract a loyal tribe w/@rsvpwjey.
The FREE #captivatetraining starts 5/9/16.
Join NOW!

A Captivating Process for Taking the Stage
with Star Quality Confidence

If you're thinking about taking the stage or leading a workshop in order to spread your message and build a loyal tribe sometime soon, then I've got great news for you…
Ever since I transitioned from performing on Broadway to running a coaching practice that was featured on the front page of the New York Times, I've been teaching other thought leaders and coaches how to do the same thing I did to spread my mission and message with expert level writing, stage skills, and captivating confidence.
In the true spirit of spring time, honoring a new season of growth, I'd like to teach you the number one most important set of skills I use to write speeches and lead workshops that captivate the hearts of a loyal tribe and mainstream media.
In fact, these are the core lessons I teach women who take the stage every year at The Captivate Retreat. I'm going to help you write a speech or workshop that will leave your audience breathless, in this FREE training.
Because after performing for millions of people across the world as an actress and artist, I discovered that these skills are really the key to thriving as a thought leader, life coach and feminine entrepreneur, one who knows how to entertain and inspire a live audience just like a Broadway star.
I invite you to sign up for my Captivate Training
so that you can…
Learn the process I discovered is the key to thriving as a thought leader and speaker.

Celebrate the coming of YOUR time to shine.

Get the antidote to finally writing workshops and speeches that win you true fans.

Lean in and receive the support of community and sisterhood.

Start this spring season off with new rituals, intention, & soulful connection with your audience.
This year women from around the world will take the stage and stand confidently in the spotlight at The Captivate Retreat. Every year my students, clients, favorite life coaches and thought leaders come together in person for a live performance and 4-day retreat. And every year we sell out.
I'm devoted to sisterhood and being supportive, so I'm teaching this captivating process during the spring season – for free!
I'm excited to meet and support you inside the Training!